Venezia Anno Zero Stills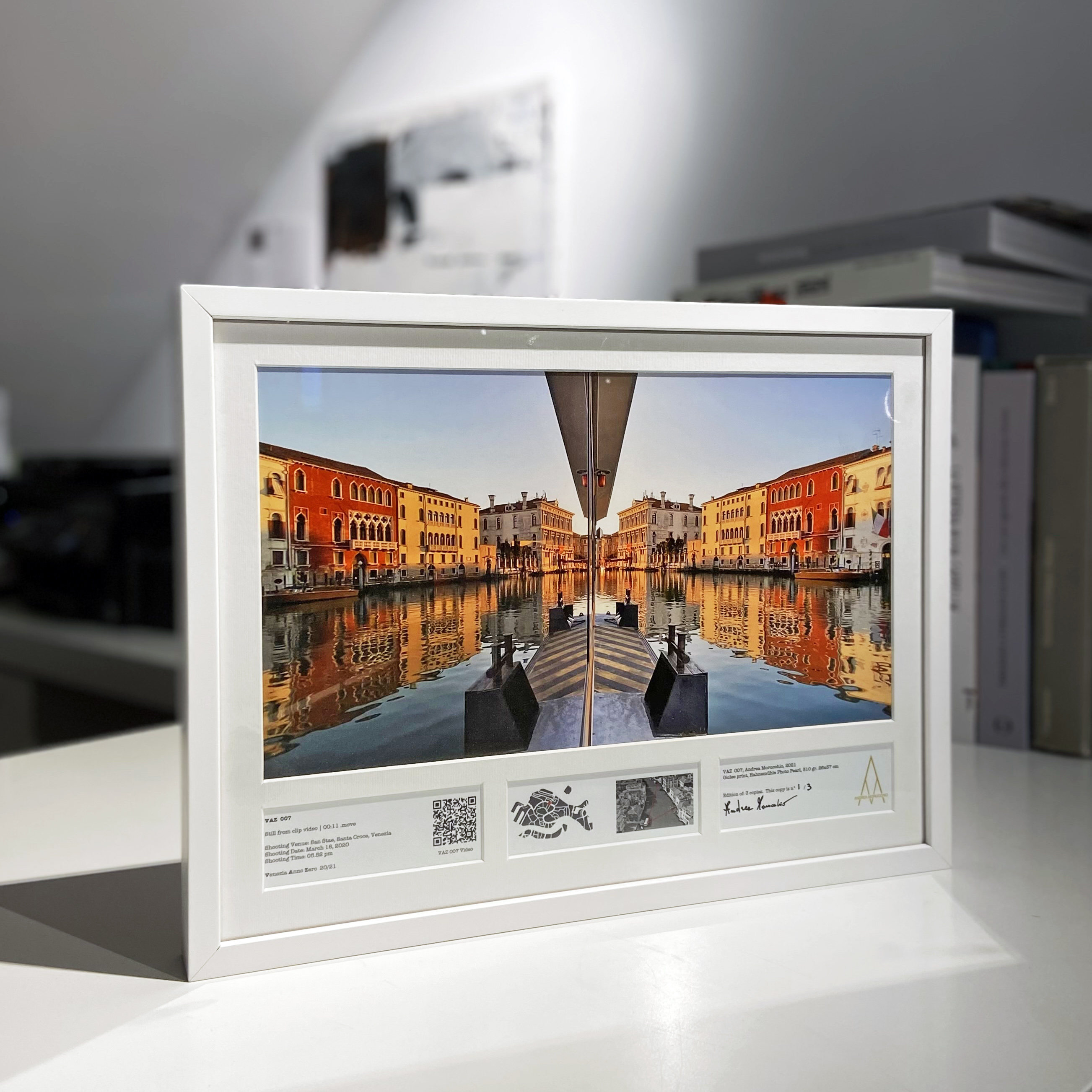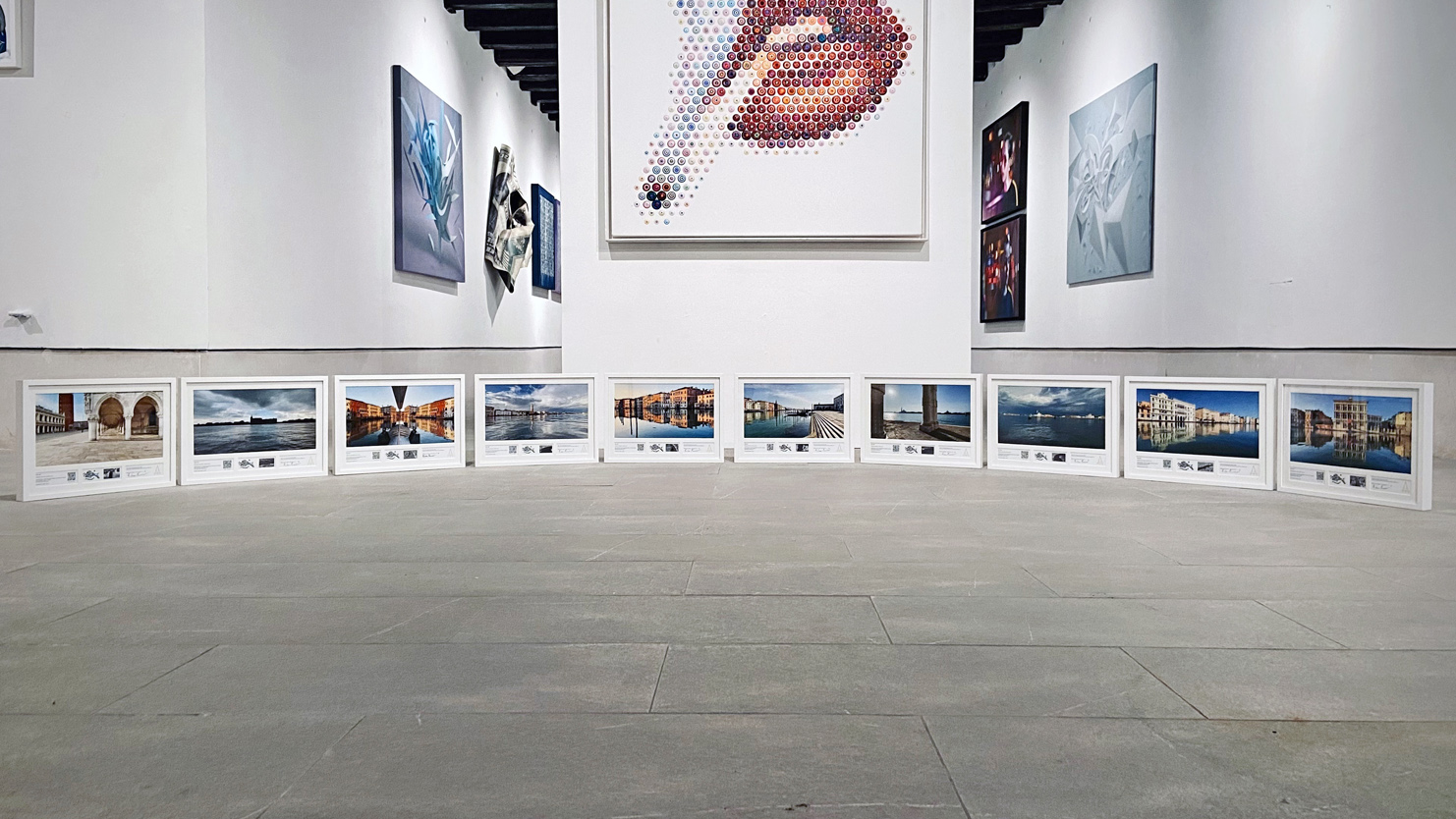 photography
STILLS | Venezia Anno Zero 
Limited edition prints
Andrea Morucchio
In collaboration with Bugno Art Gallery
Venezia Anno Zero is a project by Andrea Morucchio based on the video documentation that from March 2020 to April 2021 the Venetian artist made in his city during various lockdown periods. The uniqueness of this video documentation, of a Venice never seen before and never to be seen again, has led Morucchio to develop different artistic expressions including the creation of a series of limited edition prints, Stills Venezia Anno Zero using images extrapolated (stills) from the hundreds of video clips that make up the project Venezia Anno Zero.

In addition to the image of the Venetian landscape on the print appear indications on the place where it was taken with a plan of the city and a 3D view, the date and time and a QR code that can be used with your smartphone to see the video corresponding to the printed image.This series of works are the tangible part of the project Venezia Anno Zero, they are a form of extension, albeit two-dimensional but still physical of the videos and together with the indications of time and location become expression / testimony of the sense and concepts behind the project VAZ.
Limited edition of three copies, signed and authenticated by the author. The title is given by the acronym of Venezia Anno Zero, VAZ followed by the number that corresponds to the video from which the still has been extrapolated. Giclee print, Hahnamühle photo pearl paper, 310 gr, 26x37 cm. Size including passepartout and frame 31x41x3,5 cm.
---
STILLS | Venezia Anno Zero 
Stampe in edizione limitata
Andrea Morucchio
In collaborazione con Bugno Art Gallery
Venezia Anno Zero è un progetto di Andrea Morucchio che si basa sulla documentazione video che da marzo 2020 ad aprile 2021 l'artista veneziano ha realizzato nella sua città durante vari periodi di lockdown.L'unicità di questa documentazione video, di una Venezia del tutto inedita e mai più rivedibile ha portato Morucchio ad elaborare diverse espressioni artistiche tra cui la creazione di una serie di stampe in edizione limitata, utilizzando immagini estrapolate (stills) dalle centinaia di clip video che costituiscono il progetto Venezia Anno Zero.

Oltre all'immagine del paesaggio veneziano sulla stampa appaiono le indicazioni sul luogo in cui é stata effettuata la ripresa con una pianta della città e una visione 3d, la data e l'orario preciso e un codice QR che permette di vedere con il proprio smartphone il video corrispondente all'immagine stampata.

Questa serie di opere costituiscono la parte tangibile del progetto Venezia Anno Zero, sono una forma di estensione, pur bidimensionale ma comunque fisica dei video e assieme alle indicazioni temporali e di localizzazione diventano espressione/testimonianza del senso e dei concetti alla base del progetto VAZ.
In edizione limitata a tre esemplari, firmati e autenticati dall'autore. Il titolo é dato dall'acronimo di Venezia Anno Zero, VAZ seguito dal numero che corrisponde a quello del video da cui lo still è stato estrapolato. Stampa Giclee, carta Hahnamühle photo pearl, 310 gr, 26x37 cm. Misura compresa di passepartout e cornice 31x41x3,5 cm