Big Deal | London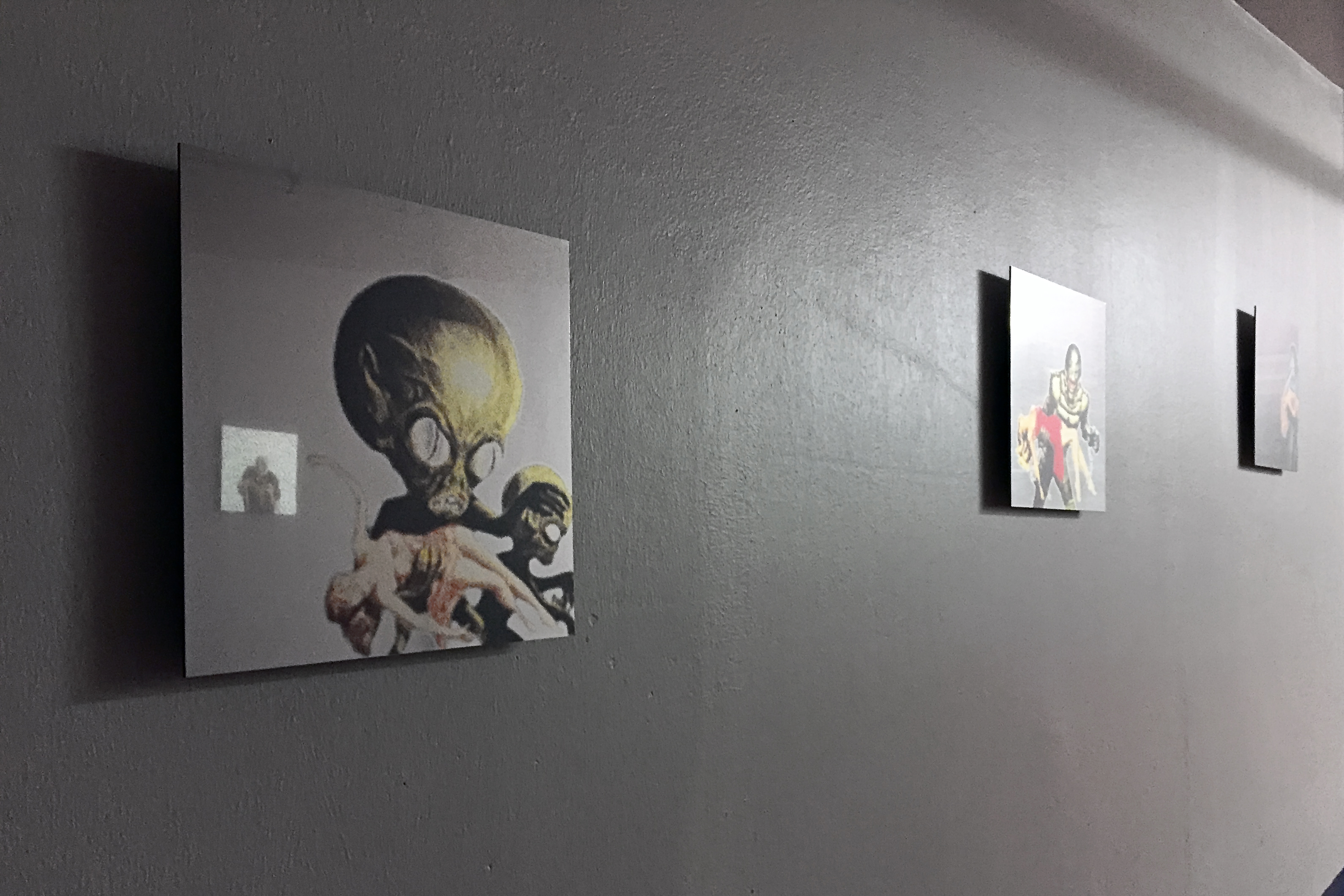 Big Deal

December 2 - 10, 2016 | digital art | Q-Park, London 

Curated by Vanya Balogh

In collaboration with Geoff Leong Foundation
For this group exhibition inspired by science fiction and set up in an underground car park in central London, Andrea Morucchio presents Suspense Pulp series, it's a bidimensional installation made of six prints on mirror perspex, 30x30 cm each. 

This work is stimulated by the comics and by the science fiction film production of the 1950s which reflects the terrors of time by constructing the figure of the alien monster, invader from sidereal spaces.

The reference to the pulp is intended as a connection to the poverty of the paper of the first comics, to its graininess, to its being "dirty".

In the mirroring effect of the works, old and new fears are intertwined in a story of postponements.


Over the parking lot's four floors and 12,000m2 of the parking lot, some one hundred artists exhibit immersive visual works and installations, the fruit of a "spontaneous exploration" of the sci-fi theme."We live in an apocalyptic time, and we all have to pay attention," he warns. What does sci-fi tell us about our present? Below, a visit through images, somewhere between retro future and dystopian present. Vanya Balogh
Exhibiting artists: Maslen & Mehra, Cedric Christie, Aldo Giannotti, Sarah Pager, India Roper-Evans, Stacie McCormick, Miyuki Kasahara, Michal Ohana-Cole, Danny Pockets, Ashley Scott Fitzgerald, Calum F Kerr, Taline Temizian, Dallas Seitz, Veronica Shimanovskaya, Mark Woods, Rebecca Scott, Gordon Faulds, Susana Sanroman, Gzillion Artist, Mario Varas Sanchez, Birgitta Hosea, Thomas J Ridley, Hermione Allsopp, Pascal Rousson, Jude Cowan Montague, Jeffrey LouisReed, Glen Fitzy Fitzpatrick, Liz Sheridan, Toni Gallagher, Alina Gavrielatos, Fiona Haines, Bob Lawson, Keith Ball, Andrea Morucchio, Paul Sakoilsky, Eva Raboso, Dannielle Hodson, Lee Maelzer, Jane Grisewood, Mark Wigan, Rachel Megawhat, Spizz Energi, EkinOnat, Phillip Raymond Goodman & DJ Holy Chao, Nerys Mathias, HarrisonPearce, Sarah Sparkes, Susan Supercharged, Ray Gange, Sung Eun Chin, Nadia Ballan, Jim Racine, Joanna McCormick, Ot Lylie, Alice Herrick, Tomaž Kramberger, Colin Smith, Phoenix-Blu Coyle, Vanya Balogh, John Plowman, Roger Clarke, Uliana Apatina, Forge & Cutter, Blair Zaye, Geraldine Swayne, Ansell Cizic, Christopher Clack, Jessica Voorsanger, Paul Tucker, Kevin Walker, Emilie Alstrup, Alexandra Bousi, Jack Brown, Emily Cole, Evgeniya Grigoryan, Vivian Hartung, Franziska Hatton, Jennifer Kidd, Ruini Ishi, Daniel Matzak, Mandee Gage, Julian Firth