Multiversity | Venezia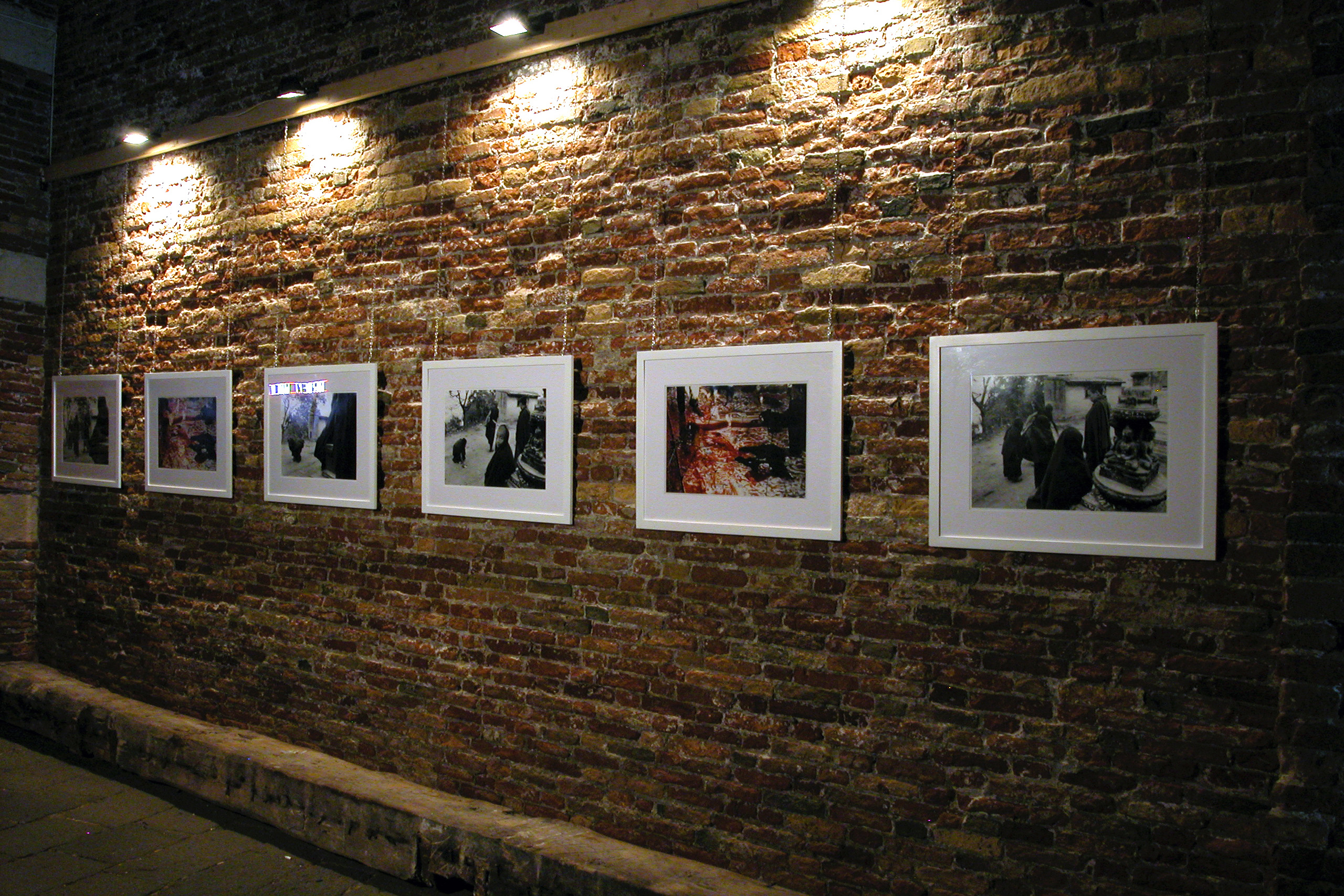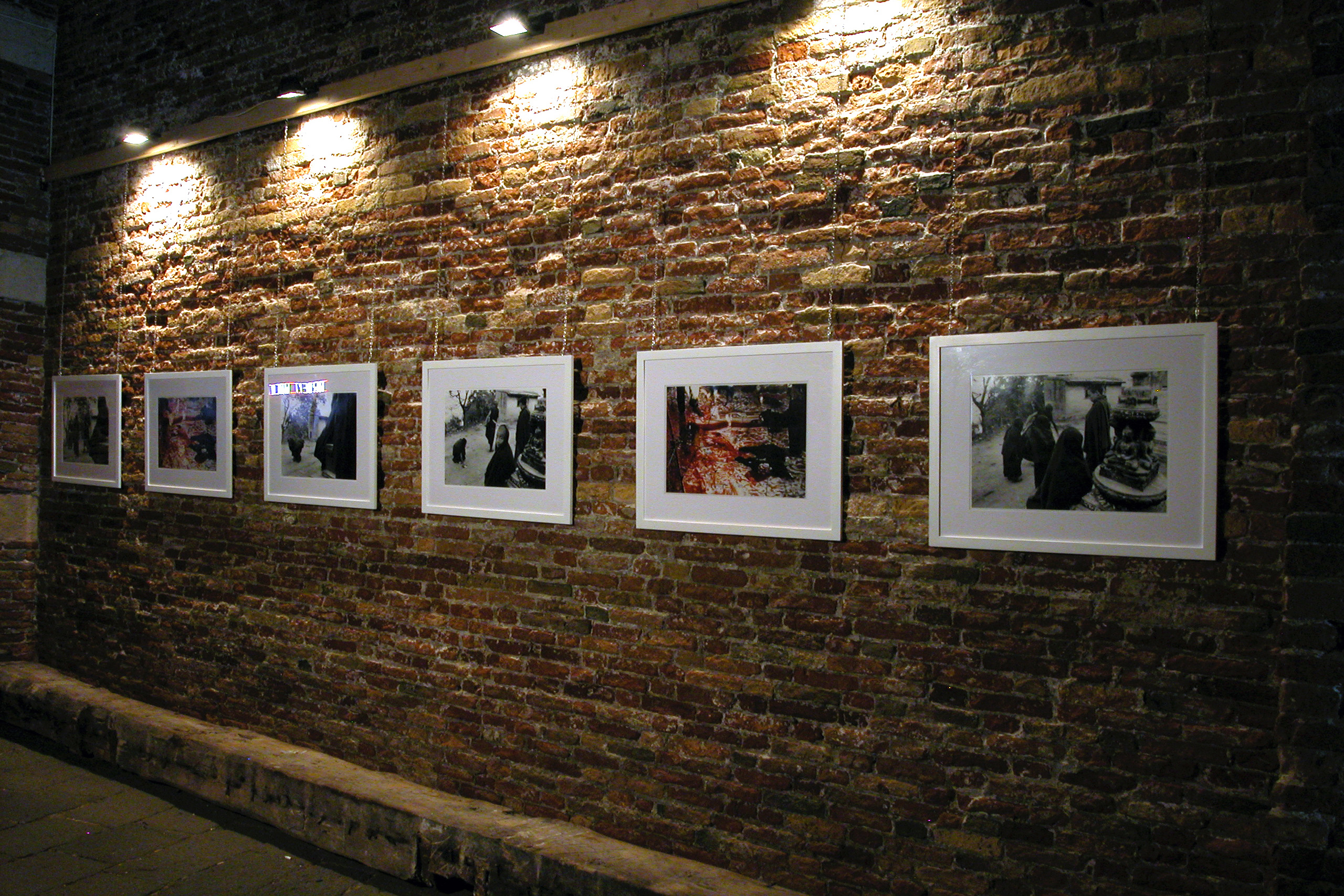 Multiversity

May 16 - June 16, 2008 | photography | S.a.l.e. Docks, Venezia

Curated by Marco Baravalle
We, the chinese nation, have the spirit to fight the enemy to the last drop of our blood, the determination to recover our lost territory by our efforts, and the ability to stand on our own feet in the family of nations. The title of this photographic installation by Andrea Morucchio, produced for the Multiversity exhibition project, borrows from Mao Zedong's words of 1935. 

"The concomitance of the exhibition period with that of the Chinese Regime's violent repression of the Tibetan population, during the spring of 2008, determined the development of a work in which Mao's famous words are connected to a series of six photographic images taken in Nepal: four black and white shots of Tibetan child monks in a Buddhist monastery alternated with two colour photographs of decapitated kids sacrificed within a Hindu temple to the goddess Kali. The contrast between black and white and colour prints, as well as the choice of the subjects and the rawness of the images, nonetheless manage to steer clear of the risk of an unsustainable rhetoric: It is precisely this absence of rhetoric which is, in my opinion, the resolving feature of We the Chinese people…, combined with the balance of colour, typical of Andrea's work, and with his unequaled photographic intuition, able to bind instantaneous impression with constituent data." - Marco Baravalle

Andrea Morucchio's photographs were exhibited at S.a.l.e. in Venezia on the occasion of the exhibition-seminar Multiveristy or rather, the art of subversion. The other artists present in the exhibition were Marcelo Exposito, Claire Fontaine and a group of militant cartographers. Andrea's photo-series seemed both appropriate and necessary in order to show at least a minimal sensitivity toward the Tibet situation, but the choice of the work also included an evaluation of formal characteristics.
Exhibiting artists: Claire Fontaine, Marcelo Exposito, Andrea Morucchio, Lab. Cartografia Partecipata.
We the chinese nation... / Noi che formiamo la nazione cinese, siamo pronti a combattere il nemico fino all'ultima goccia di sangue, siamo decisi a riconquistare con i nostri sforzi i territori che abbiamo perduto e siamo capaci di conservare il nostro posto fra le nazioni. La frase di Mao Zedong del 1935 è usata come titolo dell'installazione fotografica realizzata per il progetto espositivo Multiversity. 

La concomitanza del periodo espositivo con la violenta repressione del regime cinese verso il popolo tibetano nella primavera del 2008 hanno determinato l'elaborazione dell'opera in cui la nota frase di Mao è associata ad una sequenza di sei immagini fotografiche che ho scattato in Nepal alla fine degli anni 90; quattro in b/n di monaci bambini tibetani in un monastero Buddista alternate ad un paio a colori  di capretti decapitati in sacrificio alla dea Kali in un tempio Induista. 

Queste fotografie di Andrea Morucchio sono state esposte al S.a.L.E. di Venezia in occasione della mostra-seminario Multiversity, ovvero l'arte della sovversione. Gli altri artisti presentati  in quell'occasione furono Marcelo Exposito, Claire Fontaine ed un progetto di cartografie militanti. La serie di fotografie di Andrea ci sembrava opportuna per testimoniare almeno una - minima - sensibilità nei confronti della questione tibetana, ma la scelta dell'opera comprendeva anche una valutazione di carattere formale, dove il contrasto tra il bianco e nero ed il colore, dove la scelta del soggetto e la crudezza delle immagini, riescono comunque ad evitare il pericolo di una retorica insostenibile.

Proprio l'assenza di retorica è, dal mio punto di vista, il tratto dirimente di "Noi il popolo cinese…", unito all'equilibrio del colore tipico del lavoro di Andrea e alla sua innegabile intuizione fotografica, capace di mantenere unite l'impressione istantanea e il dato compositivo. 

- M. Baravalle