Red Track | Venezia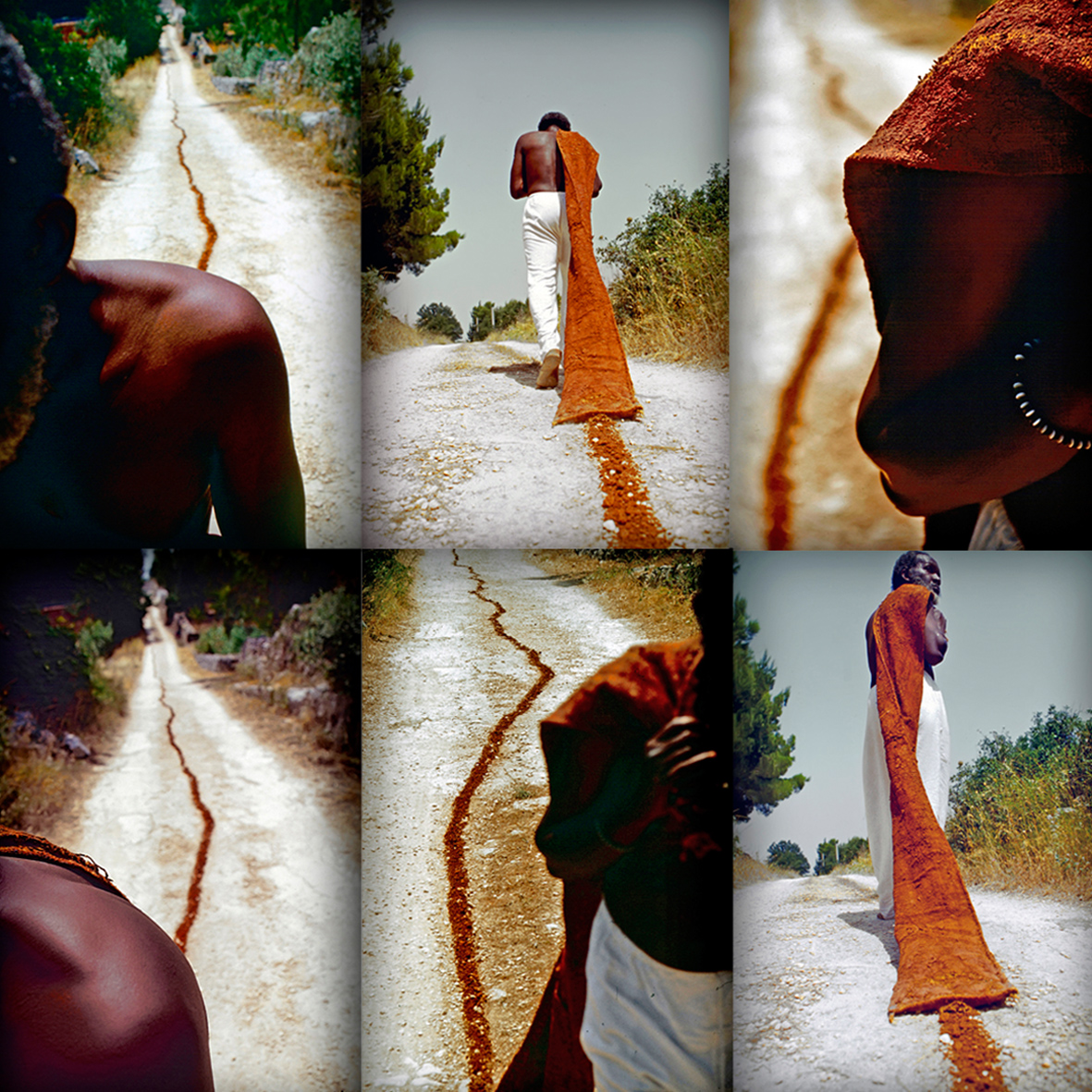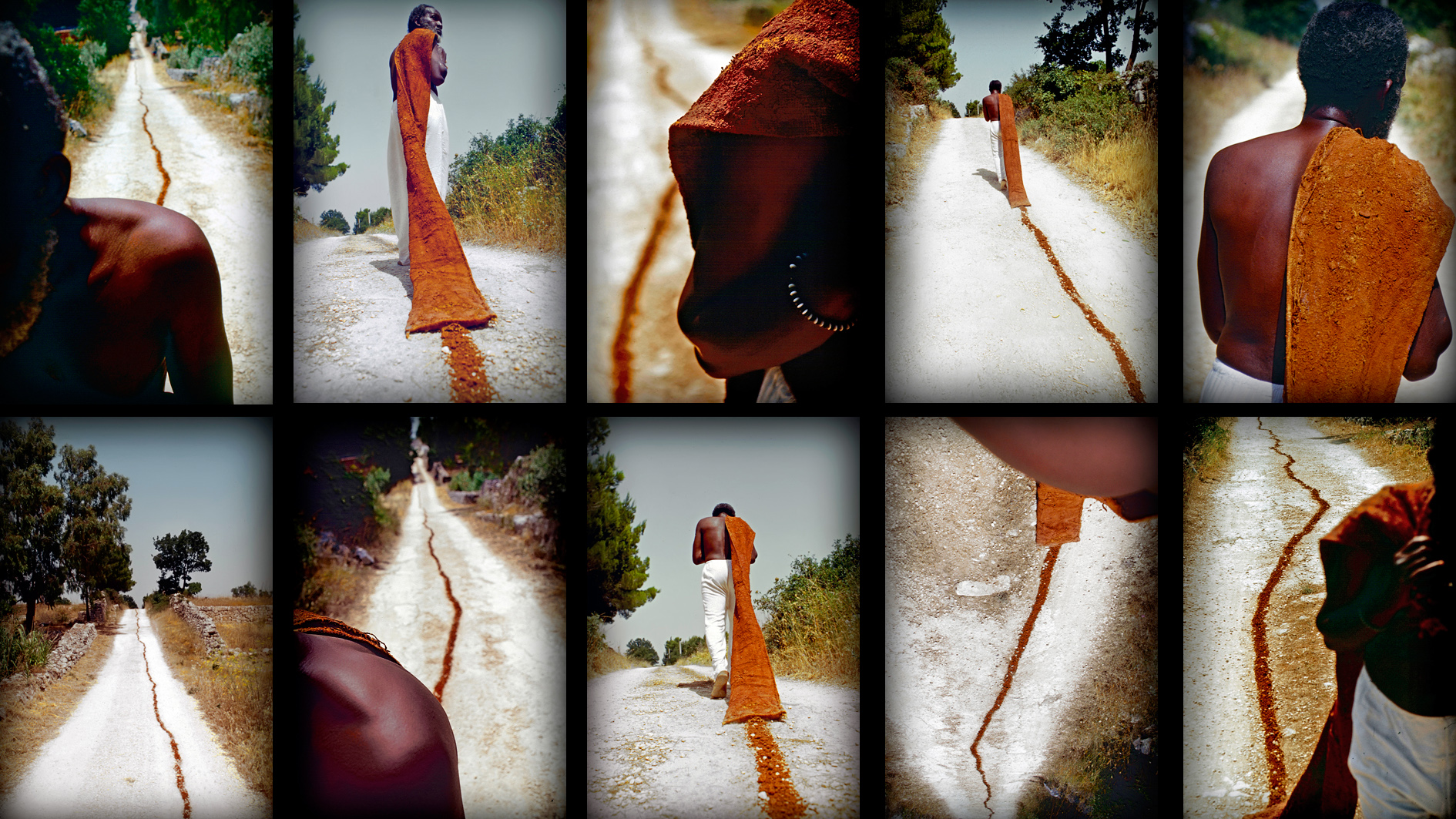 Red Track

December 10 - 17, 2016 | video installation + photography | Palazzo Mora, Venezia

Event: Venice International Performance Art Week III

Curated by Andrea Pagnes, Verena Stenke 

A project by VestAndPage

In collaboration with WeExhibit
---
Andrea Morucchio's Red Track is composed of a video projection of images taken from a series of slides documenting a performative action that took place in Puglia in 2003. 

The video in vertical format is projected in a narrow space of Palazzo Mora whose floor was covered with a red powder that visually recalls the red earth that forms the strip in the video and that gives the work its title Red Track.

The work deals with the issue of immigration, today increasingly dramatic especially in Southern Europe. While walking for a narrow path under the sun, an African man drags a long jute sack filled with red earth, which is characteristic of Itria Valley.The man struggles for the weight and discomfort of carrying this burden over a distance of about 200 meters uphill, leaving a line of red earth behind.
VIPAW III Fragile Body – Material Body. Artists: Marcel·lí Antúnez Roca, Marilyn Arsem, Giovanni Fontana, Franko B, Antonio Manuel, ORLAN, Stelarc, Marina Abramović, Dimitris Alithinos, John Baldessari, Lisa Bufano, John Cage & Klaus vom Bruch, Sophie Calle, Cassils, Panos Charalambou, Thanassis Chondros/Alexandra Katsiani, Coco Fusco & Guillermo Gómez-Peña / Paula Heredia, Ria Hartley, Mona Hatoum, Irwin, Maria Karavela, Maria Klonaris & Katerina Thomadaki, Arrigo Lora Totino, Tran Luong, Ato Malinda, Paul McCarthy, Ana Mendieta, Linda Montano, Charlotte Moorman & Nam June Paik, Andrea Morucchio, Otto Mühl & Hermann Nitsch, Bruce Nauman, OHO Group, Yoko Ono, Leda Papaconstantìnou, Mike Parr, Douglas Quin + Lorne Covington, Pipilotti Rist, Lerato Shadi, Demetrio Stratos, Matej Stupica & Lenka Đorojević, Theodoros,sculptor, VestAndPage, Bill Viola, Andy Warhol & Jørgen Leth, Lawrence Weiner, Jud Yalkut, Mary Zygouri
L'opera è composta dalla proiezione di una sequenza di foto - diapositive che documentano un'azione performativa che si è svolta in Puglia nel 2003.

Il lavoro affronta la questione dell'immigrazione, oggi sempre più drammatica soprattutto nell'Europa meridionale. Mentre cammina per uno stretto sentiero sotto il sole, un uomo africano trascina un lungo sacco di iuta pieno di terra rossa, che è caratteristico della Valle d'Itria.

L'uomo lotta per il peso e il disagio di trasportare questo fardello per una distanza di circa 200 metri in salita, lasciando dietro di sé una linea di terra rossa.